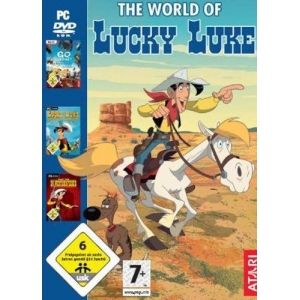 Garantie conformitate:
24 luni
Lei122.72
Pretul include TVA
Pretul este valabil doar pentru comanda online.
Cost transport prin Fan Courier:
Produse asemanatoare
Pachetul contine 3 Jocuri din seria LUCKY LUKE:

- Lucky Luke: Go West;
- Lucky Luke: On the Daltons trail;
- Lucky Luke: Western Fever;

Jucatorii vor sari in cizmele de cowboy ale lui Lucky Luke si vor trebui sa-i escorteze pe periculosii frati Dalton catre New York, pentru a aparea in fata justitiei! Nu este chiar asa de usor precum pare! Fratii Dalton va vor face zile fripte facand ceea ce stiu ei mai bine. Vor evada, vor jefui banci, vor cauta razbunare si vor arunca multe lucruri in aer.

Luky Luke este recunoscut ca trage cu pistolul mai repede decat umbra sa, asa ca-i va urmari pe fratii Dalton din vestul salbatic si pana in orasul New York pentru a-si indeplini misiunea si pentru a nu se face de rusine.

Lucky Luke: Go West! este dezvoltat de Tate Interactive (Wii, PC) si de Neko (DS) si are la baza un best-seller al cartilor comice: Lucky Luke, care a vandut pana acum peste 250 de milioane de exemplare in peste 20 de tari. Licenta a mai "produs" patru filme de animatie de lung metraj, trei serii de desene animate si cinci jocuri video. Seria Tv The New Adventures of Lucky Luke este in momentul de fata difuzata in peste 20 de tari, incepand cu Franta si terminand cu Indonezia.
Caracteristici World of Lucky Luke (PC):
Gen
Children's games & Entertainment
Platforma
PC
Limita de varsta
7+
Altele
DVD
Greutate Colet
0.5
Produsul a fost adaugat pe site in data de 10/2/13
World of Lucky Luke (PC)
Gen
Children's games & Entertainment
Platforma
PC
Limita de varsta
7+
Altele
DVD
Greutate Colet
0.5