Riddick: Dark Athena (PC)
Riddick: Dark Athena (PC)
Riddick: Dark Athena (PC)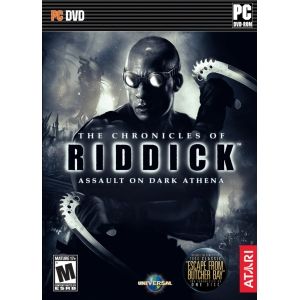 Garantie conformitate:
24 luni
Lei111.02
Pretul include TVA
Pretul este valabil doar pentru comanda online.
Cost transport prin Fan Courier:
Produse asemanatoare
Riddick: Dark Athena (PC)
Undeva, prin colturile intunecate ale galaxiei, nava de vanatoare  Dark Athena sta si isi asteapta prada. Mercenarii de pe ea insa nu au nici cea mai mica idee impotriva cui vor avea de luptat: un om experimentat si fara mila, numit Riddick. Fii pregatit pentru o calatorie SF intensa si periculoasa asumandu-ti rolul acestui antierou, bazandu-te pe disimulare, viteza si strategie in incercarea de a invinge echipajul de pe Dark Athena si de a-ti pacali propria moarte.
Continuand blockbuster-ul precedent din franciza Riddick, jocul il care ca protagonist pe Vin Diesel in rolul anti-eroului Riddick, un personaj cu abilitati senzoriale mult peste limitele umane care va trebui sa scape de pe una din cele mai periculoase inchisori din galaxie.
The Chronicles of Riddick: Assault on Dark Athena
te invita la lupte corp la corp violente si dezlantuiri necontrolate ale armelor de foc. Daca asta nu-ti este deajuns, afla ca in afara de campania single-player poti opta sa joci si multiplayer cu pana la alti 7 prieteni. Oricum ai face, fa tot posibilul sa scapi de pe Dark Athena, unde nu poti sa-ti gasesti decat propriul mormant!
Caracteristici Riddick: Dark Athena (PC):
Gen
First-Person Shooter
Platforma
PC
Limita de varsta
17+
Greutate Colet
0.5
Produsul a fost adaugat pe site in data de 10/2/13
Riddick: Dark Athena (PC)
Gen
First-Person Shooter
Platforma
PC
Limita de varsta
17+
Greutate Colet
0.5