Telefon analogic cu memorie Panasonic KX-TS520FXW (Alb)
Telefon analogic cu memorie Panasonic KX-TS520FXW (Alb)
Telefon analogic cu memorie Panasonic KX-TS520FXW (Alb)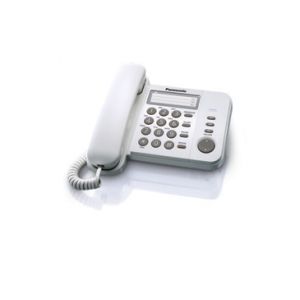 Garantie conformitate:
24 luni
Lei63.97
Pretul include TVA si timbrul verde
Pretul este valabil doar pentru comanda online.
Cost transport prin Fan Courier:
Produse asemanatoare
TS520FXW, telefon analogic cu memorie, culoare alb
3-Step Ringer Selector
The ringer volume can be set to Off,Low, or High. Set it to Off when you don't want to be disturbed during a meeting.
Switchable Tone/Pulse Settings
The KX-TS500MX can be switched between tone (pushbutton) and pulse (rotary), ensuring that it will work on either type of telephone line.
Timed Flash
This function, which supports Call Waiting and PBX use, ensures that a caller is not accidentally cut off while on hold.
Electronic Volume Control
Even in mid-conversation, you can adjust the receiving volume of the handset to any of 6 levels.
Last Number Redial
This dials the number you most recently dialed. If you need to make a follow-up call or the line was busy the first time, just press the redial button.
Caracteristici Telefon analogic cu memorie Panasonic KX-TS520FXW (Alb):
Tip telefon
POTS
Display LCD
Fara Display
Volume control
Electronic Volume Control ( 6-step)
Redialing
Last Number Redial
Power over Ethernet -PoE
Nu
Produsul a fost adaugat pe site in data de 10/2/13
Telefon analogic cu memorie Panasonic KX-TS520FXW (Alb)
Tip telefon
POTS
Display LCD
Fara Display
Volume control
Electronic Volume Control ( 6-step)
Redialing
Last Number Redial
Power over Ethernet -PoE
Nu