Switch Cisco CATALYST 2960, cu management, fara PoE, 48x100Mbps-RJ45 + 2x1000Mbps-RJ45 (sau 2SFP)
Switch Cisco CATALYST 2960, cu management, fara PoE, 48x100Mbps-RJ45 + 2x1000Mbps-RJ45 (sau 2SFP)
Switch Cisco CATALYST 2960, cu management, fara PoE, 48x100Mbps-RJ45 + 2x1000Mbps-RJ45 (sau 2SFP)
Cod produs:
WS-C2960-48TC-S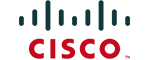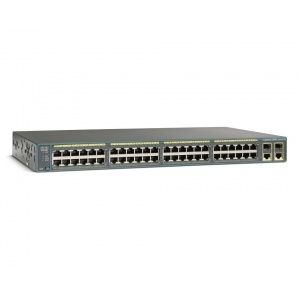 Garantie conformitate:
24 luni
Transport gratuit prin Fan Courier
Produse asemanatoare
The Cisco Catalyst 2960 Series are fixed-configuration access switches designed to provide a lower total cost of ownership for enterprise, midmarket and branch office networks. New 10- and 1-Gigabit Ethernet network modules offer uplink flexibility and help business continuity and fast transition to 10-Gigabit Ethernet. Features: Connectivity * 24 or 48 ports of Gigabit Ethernet desktop connectivity * Industry first PoE+ with up to 30W per port to support the latest PoE+ capable devices * Optional four 1 Gigabit Ethernet SFP or two 10 Gigabit Ethernet SFP+ Uplinks High Availability * Cisco FlexStack stacking for ease of operation with single configuration and simplified switch upgrade Cisco Catalyst Smart Operations * Cisco Smart Install to have the switch immediately active after installation * Cisco Auto Smartports enables automatic configuration by connected device type Security * Superior Layer 2 threat defense capabilities Investment Protection * Pay for functions and services only as needed * Enhanced Limited Lifetime Warranty * Enhanced Cisco EnergyWise to measure, report and reduce energy usage across the entire organization For fixed-configuration, standalone, intelligent Ethernet devices with Power over Ethernet (PoE), the Cisco Catalyst 2960 Series Intelligent Ethernet Switches with LAN Base software is still available. These switches allow entry-level networks to provide enhanced LAN services, and provide desktop Fast Ethernet and Gigabit Ethernet connectivity.
Caracteristici Switch Cisco CATALYST 2960, cu management, fara PoE, 48x100Mbps-RJ45 + 2x1000Mbps-RJ45 (sau 2SFP):
Porturi cupru
48
Porturi fibra
2
Porturi instalate
48x100Mbps-RJ45 + 2x1000Mbps-RJ45 (sau 2SFP)
Rate de transfer suportate
FastEthernet
Uplink Tip
Gigabit + Fibra
Viteza
FastEthernet (100Mbps)
Power over Ethernet -PoE
Nu
Management
Da
Rack mounting
Da
Switching capacity
16Gbps
Memorie flash(MB)
32 MB
Memorie RAM(MB)
64 MB
Protocoale de management
SNMP 1, RMON 1, RMON 2, RMON 3, RMON 9, Telnet, SNMP 3, SNMP 2c, HTTP
Stackabil
Nu
Altitudinea pentru functionare
3000 m
Switch modular
Nu
Dimensiuni (W x D x H mm)
445 x 236 x 44
Greutate Colet
3.6
Greutate (Kg)
3.6
Produsul a fost adaugat pe site in data de 10/2/13
Switch Cisco CATALYST 2960, cu management, fara PoE, 48x100Mbps-RJ45 + 2x1000Mbps-RJ45 (sau 2SFP)
Porturi cupru
48
Porturi fibra
2
Porturi instalate
48x100Mbps-RJ45 + 2x1000Mbps-RJ45 (sau 2SFP)
Rate de transfer suportate
FastEthernet
Uplink Tip
Gigabit + Fibra
Viteza
FastEthernet (100Mbps)
Power over Ethernet -PoE
Nu
Management
Da
Rack mounting
Da
Switching capacity
16Gbps
Memorie flash(MB)
32 MB
Memorie RAM(MB)
64 MB
Protocoale de management
SNMP 1, RMON 1, RMON 2, RMON 3, RMON 9, Telnet, SNMP 3, SNMP 2c, HTTP
Stackabil
Nu
Altitudinea pentru functionare
3000 m
Switch modular
Nu
Dimensiuni (W x D x H mm)
445 x 236 x 44
Greutate Colet
3.6
Greutate (Kg)
3.6