Router Allied Telesis AT-AR770S, WAN: 2xEthernet, fara WiFi
Router Allied Telesis AT-AR770S, WAN: 2xEthernet, fara WiFi
Router Allied Telesis AT-AR770S, WAN: 2xEthernet, fara WiFi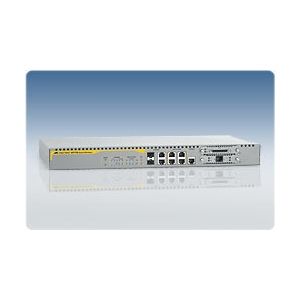 Garantie conformitate:
24 luni
Transport gratuit prin Fan Courier
Produse asemanatoare
Router Allied Telesyn AT-AR770S 2 x WAN combo, 4x 10/100/1000
AT-AR770S
10/100/1000T x 4 ports, 10/100/1000T x 2 SFP combo, 2 x PICs, 1 x Async console
The AR770S offers Gigabit connectivity for routing and Stateful Inspection Firewalling. It offers two PIC bays for extra flexibility and redundant WAN to protect your investment. IPSEC throughput up of to 500Mbps delivers class leading performance. 2 SFP / Ethernet combo WAN ports allow a single box FTTx solution.
Features
SNMPv3
IP QoS
RIPv1 and v2
OSPFv1 and v2
GRE
Optional BGP-4
VRRP
Optional IPv6
RIPng
IGMPv2
SFP/10/100/1000T x 2 WAN interfaces
2 Port Interface Cards (PICs) bays
10/100/1000T x 4 switched LAN ports
1 x Asynchronous port
DMZ port configurable on any of the WAN/LAN ports
Stateful inspection firewall
802.1x
NAT-T
Authentication: RADIUS, TACACS, MD5, PAP, CHAP
Encryption: AES, DES, 3DES
5000 configured IPsec VPN tunnels (1000 active tunnels)
CLI management
Caracteristici Router Allied Telesis AT-AR770S, WAN: 2xEthernet, fara WiFi:
WAN port
2xEthernet
Tip WAN
Ethernet (RJ45)
Viteza port WAN
1000Mbps
Dual WAN
Da
Porturi fibra
2xSFP
Porturi cupru
2x1000Mbps (WAN) + 4x1000Mbps (LAN)
Viteza(Mbs)
10/100
Wireless
Nu
Server VPN
Da
Memorie flash(MB)
32
Memorie RAM(MB)
128
Power over Ethernet -PoE
Nu
Rack-mountable
Da
Dimensiuni (W x D x H mm)
440 x 229 x 44
Greutate (Kg)
3
Greutate Colet
4
Produsul a fost adaugat pe site in data de 7/14/14
Router Allied Telesis AT-AR770S, WAN: 2xEthernet, fara WiFi
WAN port
2xEthernet
Tip WAN
Ethernet (RJ45)
Viteza port WAN
1000Mbps
Dual WAN
Da
Porturi fibra
2xSFP
Porturi cupru
2x1000Mbps (WAN) + 4x1000Mbps (LAN)
Viteza(Mbs)
10/100
Wireless
Nu
Server VPN
Da
Memorie flash(MB)
32
Memorie RAM(MB)
128
Power over Ethernet -PoE
Nu
Rack-mountable
Da
Dimensiuni (W x D x H mm)
440 x 229 x 44
Greutate (Kg)
3
Greutate Colet
4