Router Allied Telesis AT-AR750S, WAN: 2xEthernet, fara WiFi
Router Allied Telesis AT-AR750S, WAN: 2xEthernet, fara WiFi
Router Allied Telesis AT-AR750S, WAN: 2xEthernet, fara WiFi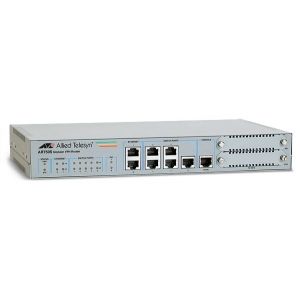 Garantie conformitate:
24 luni
Transport gratuit prin Fan Courier
Produse asemanatoare
Router Allied Telesyn AT-AR750S Mod Ent Sec , 7*LAN,1*ASYNC, 2*PIC
AT-AR750S
10/100T x 2 WAN ports secure modular VPN router with LAN 10/100T x 5 ports, 2x PIC slots, 1x Async console
The AR750S is a very high performance firewall and VPN concentrator offering up to 192Mbps of IPSEC throughput. Dual Ethernet WAN ports and two Port Interface Card (PIC) bays create a very flexible WAN router. The Stateful Inspection Firewall makes the AR750S suitable for secure routing applications.
Features
2 x 10/100 WAN interfaces
2 x Port Interface Cards (PICs)
10/100T x 5 ports
1 x Asynchronous port / Modem port
DMZ port: configurable on any of the WAN/LAN ports
Stateful Inspection Firewall
802.1x
NAT-T
Authentication: RADIUS, TACACS, MD5, PAP, CHAP
Encryption: AES, DES, 3DES
5000 configured IPsec VPN tunnels (250 active tunnels)
CLI management
SNMPv3
IP QoS
RIPv1 and v2
OSPFv1 and v2
GRE
BGP-4 (Optional)
VRRP
IPv6 - (Optional)
RIPng
IGMPv2
Caracteristici Router Allied Telesis AT-AR750S, WAN: 2xEthernet, fara WiFi:
WAN port
2xEthernet
Tip WAN
Ethernet (RJ45)
Viteza port WAN
100Mbps
Dual WAN
Da
Porturi fibra
Nu are
Porturi cupru
2x100Mbps (WAN) + 5x100Mbps (LAN)
Viteza(Mbs)
10/100
Wireless
Nu
Server VPN
Da
Memorie flash(MB)
16
Memorie RAM(MB)
64
Power over Ethernet -PoE
Nu
Rack-mountable
Da
Dimensiuni (W x D x H mm)
305 x 190 x 44
Greutate (Kg)
2
Greutate Colet
3
Produsul a fost adaugat pe site in data de 7/14/14
Router Allied Telesis AT-AR750S, WAN: 2xEthernet, fara WiFi
WAN port
2xEthernet
Tip WAN
Ethernet (RJ45)
Viteza port WAN
100Mbps
Dual WAN
Da
Porturi fibra
Nu are
Porturi cupru
2x100Mbps (WAN) + 5x100Mbps (LAN)
Viteza(Mbs)
10/100
Wireless
Nu
Server VPN
Da
Memorie flash(MB)
16
Memorie RAM(MB)
64
Power over Ethernet -PoE
Nu
Rack-mountable
Da
Dimensiuni (W x D x H mm)
305 x 190 x 44
Greutate (Kg)
2
Greutate Colet
3