Router Allied Telesis AT-AR415S, WAN: 1xEthernet, fara WiFi
Router Allied Telesis AT-AR415S, WAN: 1xEthernet, fara WiFi
Router Allied Telesis AT-AR415S, WAN: 1xEthernet, fara WiFi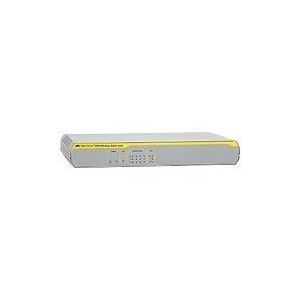 Garantie conformitate:
24 luni
Lei3,140.12
Pretul include TVA si timbrul verde
Pretul este valabil doar pentru comanda online.
Transport gratuit prin Fan Courier
Produse asemanatoare
Router Allied Telesyn AT-AR415S EU 5 x 10/100 1PIC, SEC
AT-AR415S Secure Modular VPN Router with 1 x 10/100 WAN ports, 4 x LAN 10/100Base-T ports, 1x PIC slot, 1x Async console
The AT-AR415S uses a variety of high-speed WAN access technologies to deliver fast, reliable and secure Internet and network access for small and medium-sized businesses. Packaged in a compact one-rack unit chassis, this versatile router provides five 10/100 Fast Ethernet interfaces and supports a variety of Port Interface Cards (PICs).
For the WAN network, the AT-AR415S features one 10/100Mbps Ethernet Port. Also offered is an asynchronous port and four Layer 2 switched LAN ports that are reconfigurable as a DMZ.
Features
1 x 10/100 WAN interfaces
1 x Port Interface Card (PIC) bay
10/100T x 4 switched LAN ports
1 x Asynchronous port
DMZ port: configurable on any of the WAN/LAN ports
802.1x
Up to 50 concurrent IPSEC tunnels
Stateful Inspection Firewall
NAT-T
Authentication: RADIUS, TACACS, MD5, PAP, CHAP
Encryption: AES, DES, 3DES
CLI management
Web based GUI
IP QoS
SNMPv3
OSPFv1 and v2
RIPv1 and v2
BGP-4 (Optional)
GRE
IPv6 - (Optional)
VRRP
IGMPv2
RIPng - Optional
Caracteristici Router Allied Telesis AT-AR415S, WAN: 1xEthernet, fara WiFi:
WAN port
1xEthernet
Tip WAN
Ethernet (RJ45)
Viteza port WAN
100Mbps
Dual WAN
Nu
Porturi fibra
Nu are
Porturi cupru
1x100Mbps (WAN) + 4x100Mbps (LAN)
Viteza(Mbs)
10/100
Rata Transfer cablu (Mbps)
10/100
Wireless
Nu
Port USB
Nu
Server VPN
Da
Memorie flash(MB)
16
Memorie RAM(MB)
32
Power over Ethernet -PoE
Nu
Rack-mountable
Da
Dimensiuni (W x D x H mm)
305 x 190 x 44
Greutate (Kg)
1.75
Greutate Colet
2.5
Produsul a fost adaugat pe site in data de 7/14/14
Router Allied Telesis AT-AR415S, WAN: 1xEthernet, fara WiFi
WAN port
1xEthernet
Tip WAN
Ethernet (RJ45)
Viteza port WAN
100Mbps
Dual WAN
Nu
Porturi fibra
Nu are
Porturi cupru
1x100Mbps (WAN) + 4x100Mbps (LAN)
Viteza(Mbs)
10/100
Rata Transfer cablu (Mbps)
10/100
Wireless
Nu
Port USB
Nu
Server VPN
Da
Memorie flash(MB)
16
Memorie RAM(MB)
32
Power over Ethernet -PoE
Nu
Rack-mountable
Da
Dimensiuni (W x D x H mm)
305 x 190 x 44
Greutate (Kg)
1.75
Greutate Colet
2.5